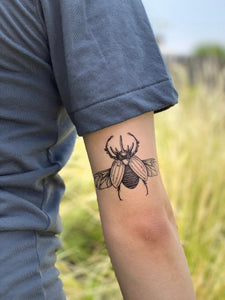 About this product
Rhinoceros Beetle temporary tattoo, original design, hand-drawn in bold black lines. This majestic beetle design has a wingspan of 4" wide. Some have said the image of a beetle represents luck, abundance, and creativity. What does it mean to you?
All tats now come in 2 Packs!
Lasts 2-5 days
All original designs by Allison Wilcoxen in Austin, Texas.
Details
• Made in United States
• Weight: 0.2 oz (4.5 g)